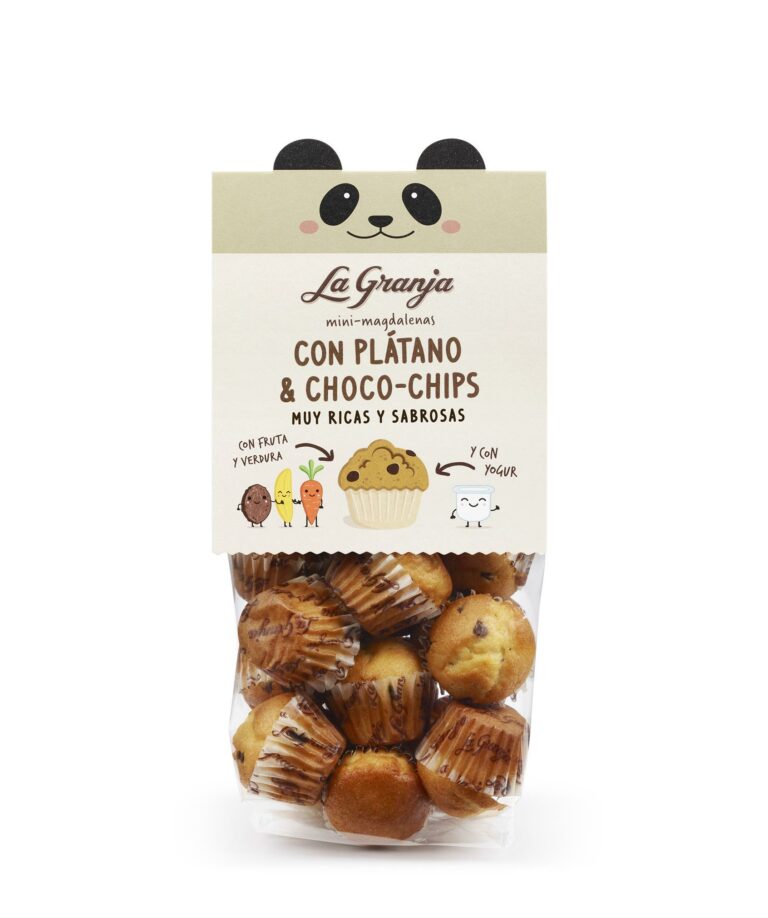 Banana and choco-chips mini fairy cakes
Cereal, yogurt, fruit and vegetables all rolled into one tasty mini fairy cake! For you to enjoy a tasty wheat flour fairy cakes with yogurt, made with banana and coconut, carrot and chocolate chips.
Made with fresh plain yogurt
Made with fresh eggs
With chocolate chips
With brown sugar
With natural banana
With carrot for natural color
With grated natural coconut
Slow baked
High sponginess and flavor
Very tender texture
With the best and highest quality ingredients
€ 4,35
What makes the difference
| La Granja Foods traditional products | Products in the market |
| --- | --- |
| With natural fresh yogurt | With lower quality dairy or substitutes |
| With fruit and vegetables | Foods no present in this type of products |
| With high quality chips chocolate | With lower quality chocolate |
| Mini format | Mini format uncommon in the market |
| Without palm oil | With palm oil |
| Made with high oleic sunflower oil | Made with lower quality oils |
| Made with fresh egg | Made with pasteurized egg |
| Made with brown whole cane sugar | Made with lower quality sugars |
| Tender, fluffy and great flavor | No fluffiness and very neutral flavors |
| Slowly baked, productivity doesn't matter, but the result | Fast bakes to be more productive |
What does La Granja Foods stand out in?
For manufacturing or products to order or on request and not generating stock, to serve the product as fresh as possible.

For using the best ingredients, creating alliances and loyalty among our zero km providers, who have major quality accreditations. We prepare them with fresh yogurt and fresh eggs, cracking these one by one to ensure a craft result.

Our diversification allows us to reach consumers through all our lines: traditional, diet, ecological, vegan and gluten-free. And in them all, we guarantee the quality, taste, texture, sponginess and pleasure.

To improve and innovate: our philosophy is to improve the recipes and to always improve the nutritional labels, improve the preparation and baking processes to innovate better products and new lines.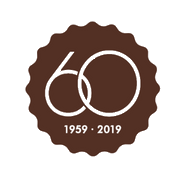 INGREDIENTS: WHEAT flour (27%), brown sugar, sunflower vegetable oil, EGGS, water, chocolate chips (9%) [sugar, cocoa mass, cocoa butter, emulsifier (SOYBEAN lecithin)], natural YOGURT (6%) (pasteurized cow's MILK, skimmed MILK powder, MILK proteins, DAIRY starters), banana paste (3%) [banana pulp, glucose syrup, invert sugar, corn starch, lemon juice concentrate, carrot concentrate, natural flavor], coconut (0.6%), banana powder (0.3%), carrot powder (0.3%), skimmed MILK powder, WHEAT gluten, humectant (glycerin), glucose and fructose syrup, raising agents (diphosphates, sodium carbonates), emulsifier (monoglycerides and diglycerides of fatty acids) and enzymes.
May contain traces of NUTS and SESAME.
Nutritional value
100 gr
Energy value

1706 kJ/ 408 kcal

Fat
of which saturated
23 g
4,8 g
Carbohydrates
of which sugars
41 g
19 g
Proteins
7,9 g
Salt
1,1 g
Frequently Asked Questions
La Granja Foods and Social Responsibility
Since its origins, La Granja has been especially aware and sensitive to the integration of people with functional diversity.
That is why we collaborate with organizations dedicated to helping people with disabilities or special needs.
La Granja collaborates with Fundació L'Espiga de Vilafranca del Penedès, since its creation in 1991. The purpose of this local entity is to promote assistance, education and generic and specific training, and, in general, any activity that favors the social inclusion of people with disabilities. (www.fundaciolespiga.com) La Granja regularly cooperates with Fundació Pro-Penedès, which seeks the social and economic promotion of the region by carrying out, among others, job placement activities with people with any type of physical, mental or sensory impairment and at risk of social exclusion. Another of La Granja's collaboration channels is with the cooperative group of entities and social enterprises Entrem-hi, specifically in the program Junts Trenquem el Cercle! With the support of Obra Social La Caixa and managed thanks to an economic fund with contributions from a network of supportive companies committed to training, it promotes work experience and the hiring of people at risk of exclusion. Among the companies involved is La Granja. 
What is the IFS FOOD certification?
At La Granja Foods, we have the IFS 2023 certificate with a High Level result, and we have now obtained the IFS certification annually for 9 years.
IFS Food is a food safety standard recognised by the Global Food Safety Initiative (GFSI) to audit companies which manufacture food. Also companies that handle and package bulk food products, concentrating on food quality and safety of the products processed.
100% recyclable packaging
Following the philosophy of sustainability that characterizes our brand. All our packaging is 100% recyclable.
See more
Solar panels
At La Granja Foods more than 40% of the electrical energy comes from solar energy, thanks to the installation of 249 400WP modules, where the total power that can be obtained is 99.6 KWP.
Social collaboration
La Granja collaborates with the L'Espiga foundation for the care of people with disabilities.